C64 Emulator Android App
You must accept the terms of the
license agreement
before downloading the files.
Download Version: 15.9.2018 based on V1.0.4.5
Details
Donwload the C64 Emulator Android App and install the app by executing the apk file. You have to temporary enable the "Unknown sources" option in your mobile settings.
Features:
* Joystick through touchpad.

* C64 Keyboard.

* Sound support

* Multiplayer support - compatible with the Windows and Raspberry PI version

* S64 file extension and MIME-type association (application/x-c64-snapshot)

* S64, D64, G64, X64, ZIP, PRG, P00, T64, TAP, CRT file support

* Snapshot download from c64emulator.111mb.de.
App Permissions:
* No special permissions needed

* Internal Storage (cache and save state).

* External Storage Read Access (loading C64 files).

* Internet access to c64emulator.111mb.de (snapshots and thumbnails).
Main Screen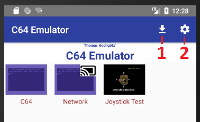 Please choose a snapshot from the thumbnail list. A single click starts the last save state and a long click the original snapshot.
Actionbar
1) Open External C64 File
2) Open Settings
Emulation Screen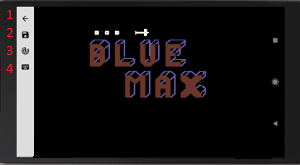 Touchpad
*) Fire Button
*) Up/Down/Left/Right
Toolbar
| | | |
| --- | --- | --- |
| Button | Click | Long Click |
| 1) | Back | Show Version |
| 2) | Save Current State | |
| 3) | Disk Selection | Change Touch Mode |
| 4) | C64 Keyboard | Toggle C64 Joystick Port |
| *) | User Defined Buttons | Change Definition |
Further topics (forum)